SNUFF 'The Wrath Of Thoth' 12" EP
The brand new record from UK punk legends Snuff. Originally lined-up to be released on their May 2020 UK Tour, this EP brings us SIX unreleased tracks of absolute punk perfection from Duncan & the boys...seven tracks if you include the hidden one. Honestly, this release is just what we all needed right now, with the band running the gamut of punk styles, sliding from melodic hardcore riffage to bounce-along choruses, via a British airmen's song from World War I...Obviously!!
- Limited pressing of just 300 copies on translucent red/translucent blue (A-side/B-side) with white splatter
- The only pressing to come with free digital download code (inserts) with embedded lyrics.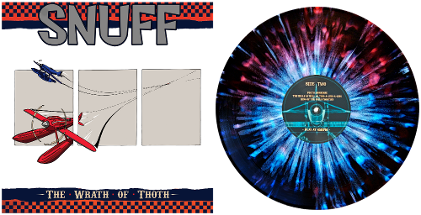 CROCODILE GOD 'Thirteen' LP (Crackle 025.5)
A split with Brassneck Records from Cardiff. It's 300 copies only on ORANGE vinyl and contains thirteen more killer songs from our favourite Liverpool band EVER. If anything, they've just got faster and even catchier since the last release on Crackle. If you've ever liked Bracket, Sicko. Snuff EARLY snotty Green Day or Dillinger Four, you need to add this to your collection!