BABY SILVERSKINS 'Yarping Down The Tweeds' LP/CD (Crackle 026)
A brand new 12-track release from Crewe's very own BABY SILVERSKINS. It shoots out of the traps like the raw, bastard-offspring of early Snuff in an occasional, chance meeting with one of the Minutemen or Firehose, and it's a compilation of everything they recorded back in the day, or the early to mid-90s to you and us. And if it doesn't have you throwing yourself round your bedroom, screaming with joy and punching the air, whilst singing 'wo-oh-oh-oh' at the top of your lungs to 'New Girl', or if the verse to 'Almost Sad' doesn't send shivers down your spine, and that's BEFORE you've even heard the chorus, we hereby pronounce you well and truly dead from the waist up. The Skins, as they are affectionately known around these parts, spent the aforementioned early 90s touring the UK in an old Citroen 2CV, playing with the likes of Bracket, Snuff, The Queers, Avail, Rugrat, various Crackle bands and Manchester hardcore heroes. The record contains six tracks from a demo cassette which have never been released until now. They should have been released on Crackle, why they weren't is anyone's guess, but let's just say we must have been fiddling about with the car radio as the band passed in the opposite direction, waving to us from their 2CV, but we're here now to right one of the great injustices of our time. The original plan was to release these six tracks as two seven inch singles, but when we did the maths, an LP was almost as cheap to make. So we chucked in the four tracks from their only vinyl release, a split single with Pigpile, masquerading under the snappy title of 'The Dangerous Bourgeois Leanings Of El Quados Mon Hados', and two unreleased instrumentals, one of which strays into Fugazi territory. Just don't say we never give you anything. Comes with an A4 double-sided insertof lyrics/pictures and flyers, plustwo other A6 inserts.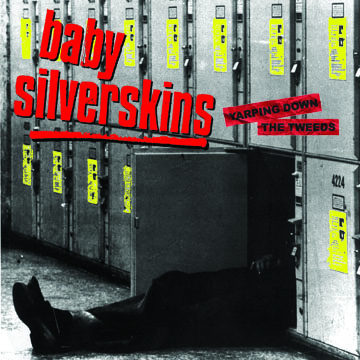 CROCODILE GOD 'Thirteen' LP (Crackle 025.5)
A split with Brassneck Records from Cardiff. It's 300 copies only on ORANGE vinyl and contains thirteen more killer songs from our favourite Liverpool band EVER. If anything, they've just got faster and even catchier since the last release on Crackle. If you've ever liked Bracket, Sicko. Snuff EARLY snotty Green Day or Dillinger Four, you need to add this to your collection! Comes with a double-sided lyric insert and label flyer insert.